sexual orientation
sexual orientation
blood purity
blood purity
Communication Crystals
A WIZARD'S SMARTPHONE ALTERNATIVE
Communication Crystals, known as just 'crystals' by the wizarding world, are the wizard alternative to smartphones. These are typically golf-ball-sized lumps of blue Kyanite, but wizards can easily change the form into a beaded bracelet or necklace, depending on preference. There are other colours of crystals available, but they come at a higher price.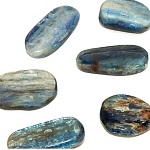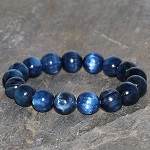 "VIDEO" CALLS
The crystals are like two-way mirrors (like the one Harry had to communicate with Sirius) where wizards can 'call' another. If the call is accepted, it works the same as a video call. A mid-air caption of the wizard projects from the crystal, and they can talk as though face-to-face. There can be a conversation between two or more people using this method.
Accepting a call is much like a smartphone: the crystal will vibrate or chime to signify an incoming call.
INSTANT MESSAGING
Crystals can also be used as a method of quick written communication, like an instant messenger. You can buy 'air pens' with your crystal, also made of Kyanite. The wizard can write mid-air with the air pen, then send it through their crystal to the receiver or receivers. The receiver would then choose to accept the message, and it would be displayed mid-air for them to see. There can also be a conversation between two or more people using this method.
Accepting messages is the same as with calls: the crystal will vibrate or chime, depending on the user's preferences.
CONTACTS
All crystal users assign their own passwords, which becomes like your 'phone number'. In order to contact your crystal, that person must have your password. This only has to be used the first time you contact them, though. Then it is 'saved' to the crystal.
For example, say you are calling Louis for the first time. You would say "call Louis Weasley - password 'raspberry pie'". The second time you contact him, you would just say "call Louis Weasley". Similarly with messaging, you would say "message Louis Weasley" before writing your messages to him.
Users can also 'block' people if they don't want them contacting them. (You'd just say "block Louis Weasley", or write it with your air pen in private mode - see below).
PRIVACY
The user can choose if messages and calls can only be seen/read by themselves and no one else. This is called 'private mode'. As long as they're the only one holding their crystal, the conversations can be private, and will only display to them. (i.e. if someone came in the room while you were using your crystal, they wouldn't see the mid-air messages or video call captions. Only you would.)
USE AT HOGWARTS
Crystals work at Hogwarts as well! Yay! But you're not supposed to use them in class. Depending on how strict the teacher is, crystal use in class could be a warning, a detention, or even confiscation.
To prevent in-class cheating or exam cheating, the teachers use a special box to lock students' crystals. This box cannot be penetrated by the students' magic, and can only be unlocked by the teachers.
OTHER INFO


There is a kiosk in Hogsmeade that sells crystals and gives information to people about their uses. This is more for the convenience of students while they're at Hogwarts

Alternatively, there is the main shop in Horizont called Crystal Castles that sells all the latest add-ons. We might have a few new inventions spring up over time.

You can RP out crystal conversations using the comm board on site here.

---
Permissions in this forum:
You
cannot
reply to topics in this forum