current time
Apr. 2021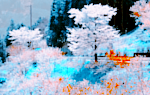 staff
Admin Xaria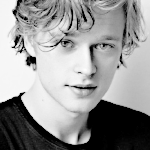 Admin Violet
Who is online?
In total there are
4
users online :: 0 Registered, 0 Hidden and 4 Guests
None
Most users ever online was
139
on Wed Jul 03, 2019 9:12 am
Credits
Skin & graphics made by Xaria. The Harry Potter franchise belongs to J.K. Rowling. All original characters belong to the respective user that made them along with their posts. No copyright infringement intended.
Mystique had just vacated the last student for the night and decided it would be a good time to get some sorting done. She levitated a large stack of books and made it follow her through the aisles as she put the books back on the shelves. A sound, however, caught her attention. She was sure there was no one else was there. She stepped out from the stack and looked around, "Hello? The library is closed. You'll have to come back tomorrow."
One place you can guarantee you'll never find Fred: the library. And yet there he was, amongst all the students, with a small pile of books before him and busily reading the contents.
When the librarian ushered all the students out for the night, Fred didn't move. His eyes started to grow heavy, and he rested his head on top of the book. Just as he began to drift off, however, a voice stirred him.
He sat bolt upright and hit his head on a shelf.
"Shit!"
He cursed, rubbing underneath his hat. The librarian, Mystique, was looking right at him. They had spoken during meal times occasionally, but he couldn't say he knew too much about her. Of course he'd noticed that she was pretty.
"No staff exceptions?"
he asked her cheekily.
@Mystique Vega

Mystique smiled when she saw that it wasnt a student, but it was Fred. She tapped her chin as if she were giving the situation extreme thought, "I don't know. I'm pretty strict about my rules." She tried to keep a straight face but failed when a giggle escaped, "Of course you can stick around for a bit, Fred. How have you been?"
@Fred Weasley II
Fred grinned.
"Ah, y'know, same as usual. You?"
That was a pretty big fat lie. As she maintained eye contact with him, he slowly tried to
ease
the books he was reading about pregnancy and child care underneath the desk. Slow and steady. It would be as though they were never there.
@Mystique Vega

Mystique noticed the slight movement of him trying to hide whatever he was reading. As a librarian and a mother, you learn to notice things like that, "Whatcha got there?" She asked trying to catch a glimpse of the cover but he had already hidden them under the desk, "Awww come on, no fair."
@Fred Weasley II
"Got what, where?"
He teased her playfully.
"I ain't got anythin'. But there's this under the desk. Look."
He took his hand out from under the desk and honked her nose. Being in the library was making him  feel like a student again, so he suddenly had that first-year humour that he had.
@Mystique Vega

Mystique was confused as to what could be under the table other than the book she knew she clearly saw. Suddenly, he had a hold of her nose and she couldnt help but laugh. Fred was always so happy and it rubbed off on her, "You always do make me laugh. But, if you want the book that's not under the table, you'll have to check it out." She said in her stern librarian voice.
@Fred Weasley II
"Alright, alright. You're the boss,"
He said in submission, pulling out the books from under the desk and slapping them on top.
"My cousin Dominique is pregnant so I thought I'd read up on it,"
He said quickly, and unconvincingly. He scratched the side of his head. It was good that she was laughing, which is what he loved to do most of all, but there was clearly something forced about it all.
Fred suddenly looked quite fed up again. It was nice to pretend to be okay sometimes.
@Mystique Vega

When Mystique first saw what book he had been hiding, her first thought was that Fred was going to be a father. She couldnt help but feel a tiny bit relieved that it was in fact his cousin who was pregnant. She just personally felt Fred was not ready to be a parent yet. She noticed a change in his demeanor and wrinkled her nose a bit, "Are you sure you're ok, Fred?"
@Fred Weasley II
Fred looked at her for a few moments, then groaned. He took off his hat, slung it to one side, and planted his face down on the desk.
"No,"
He admitted, in a small, muffled voice.
@Mystique Vega

She knew he wasnt. It was obvious in his demeanor. She pulled out a chair and took a seat, "Do you want to talk about it?" She was no psychologist, but she could listen and maybe offer some advice if he needed it, "Its not as scary as it sounds. I can assure you, your cousin is probably alot more scared than you are."
@Fred Weasley II
"Nah, nah, it ain't that,"
He said, hearing her pull a chair up alongside him. He rotated his head very slightly so he wasn't talking into the desk.
"It's me. I'm the one who's pregnant. Well - obviously - I mean I got a girl pregnant."
He laughed dryly, but his laughter ebbed away quite quickly. Then he was holding his hands over his head and groaning.
"I can't buggerin' sleep. Can't eat. Can't think straight. It's just this big, big raincloud followin' me around."
@Mystique Vega

Shit. So she had been right the first time. Fred was going to be a father, "Hey. It's all gonna be ok. Have you talked with the mother about what she wants to do?" She wasnt sure if Fred was involved romantically with the mother or if this was the result of a one night stand. But either way, she knew he was probably terrified. "When I first found out I was pregnant with my daughter, I was so scared. I didnt think I'd be able to do it. But I did. And you can too."
@Fred Weasley II
Fred sat up and looked at her as though she was speaking a foreign language.

"Yeah but you're like, y'know," He waved over the whole length of her pointedly, as though she would immediately get where he was coming from. "You're you, aren' ya? And I'm--" he gestured over himself in the same way. "-- this idiot."

He glanced over the book covers.

"I ain't spoken to her since she told me last week. We ain't goin' out or anythin'. I hoped we would, but..."

Mystique smiled and shook her head, "I wasnt always like this. I used to be a bit like you. But then Athena was born. Becoming a parent turns you into a whole new person." She frowned a bit when he said he hadn't really spoken to the woman, "I would get on that if I were you. Figure out how you both feel about everything then go from there."
@Fred Weasley II
"Oh come off it, as if you were like me," He said, laughing. "Can't imagine ya as a dropout slob who dicks around all the time." Hah. It just couldn't be true.

"But I get ya, I think," He smiled weakly. "Yeah, maybe. I dunno what she thinks of me to be honest with ya. Probably what I said before."



"Well no... not exactly. But I was a bit of a jokester. I got into trouble sometimes. Nothing to get me expelled though. My father would have killed me himself if I had." She placed her hand on top of his and gave it a little squeeze, "Either way, you both are about to be responsible for a human life. You dont think shed try to keep the child from you, would she?"
@Fred Weasley II
"Hard to imagine ya like that,"
He said, chuckling a little.
She was being really nice to him, and he started feeling all warm and glowy from it. Sort of like when you were sat in the bath for a long soak. She definitely was a Mum. Serious Mum vibes there. It was nice though.
"I dunno. She's a hard read. We just had one night then, poof! Gone. Then she appears and tells me this."
@Mystique Vega

Mystique wished she knew both sides of the situation so she could do a proper assessment and be able to help him better. But unfortunately, she didnt. This was why she hated one night stands. The only good thing to ever happen to her from a one night stand was Athena, "Then you gotta go to her. Dont wait for her to come to you. If you're serious about this you need to show it. Itll show her you mean business and that she can count on you."
@Fred Weasley II
"Yeah..."
He said absently, looking off to one side. There was still a drawing he'd done behind the shelves as a kid, of certain lady parts. Apparently, no one had noticed it after all those years.
"Yeah... I might do, y'know. Maybe she's scared or somethin'."
This was all just guess work to him.
"Cheers, Mystique. Can I call ya Mystique?"
It was the Mum vibes. He felt compelled to call her 'Miss Vega'.
@Mystique Vega

"Shes probably terrified. This is just as scary for her as it is for you if not more. Shes the one that has to be pregnant for nine months." She said trying to get him to smile a bit. "Of course you can call me Mystique, Fred. Were friends." She said, giving him a wide smile.
@fred Weasley II
"I guess so..."
He hadn't really thought about it like that. Samara wasn't the type of woman who seemed capable of being
terrified
of anything. Seeing as her sister was a vampire as well, their entire family was probably a little doolally.
He smiled at her.
"Thanks. And... don't tell anyone about this, yeah? Don't want all my cousins knowin' about it. Y'know they're all over the school and that."
@Mystique Vega

---
Permissions in this forum:

You cannot reply to topics in this forum