Guest
sexual orientation
sexual orientation
blood purity
blood purity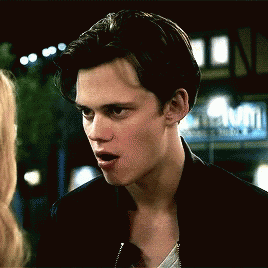 Basics
Name: Ezekiel Markus Brydges
Nicknames: Kiel
Titles: Dick head, handsome, God
Date of Birth: June 1, 2005
Age: 15
Blood Status: Pureblood
Hometown: Wales
Current Home: London
Nationality: English
School: Hogwarts
Sexual Orientation: Straight
Wand: 10, pine, unicorn hair
Appearance
Hair Color: Brown hair
Hair Style: Messy and short, doesn't care really if it's sticking up or what not
Eye Color: Blue
Body Type: Muscular
Height: 6,2
Other Distinguishing Features: N/A
Clothing Style: Anything that looks badass or if he's comfortable. Usually in black, red, or green, other then that clothes are clothes to him.
Personality
Ezekiel can be an asshole when it comes to people who make him mad and what not, he is not really a patient person when it comes to life, if someone tells him they'll be there in five minutes to meet him, if they're not there in five minutes he leaves. He doesn't like lateness but he does have tendencies of being late to class and what not. Ezekiel does treat people the way they deserve to a point, if they show him some sort of kindness he will do the same thing back but mostly he is an asshole when it comes to the majority of the students in Hogwarts. He has his moments of being caring but he is mostly loyal and protective when it comes to people. He is a blunt person so if he had a secret he gave it up a long time ago, he isn't one who likes keeping secrets because secrets are what ruin relationships with people. He likes girls, his little brother, chocolate, and cake, Ezekiel dislikes lateness, liars, and people who make him mad.
History
Ezekiel was born and raised with his parents and younger brother, when he was seven years old his mother went missing and there was a big search for her. Ezekiel was the one that had to take care of his father and little brother while they broke down in tears for the need of their mother and wife. Ezekiel's mother was found in the hospital from an accident that had happened, Ezekiel's mother died a few days after him and his family have found out she was in St. Mungos. Ezekiel was heartbroken and the once innocent boy he became a cold stone brick wall. He went to Hogwarts and only has a few friends due to the fact that he doesn't want people to come close to him for he is afraid he'd loose them.
Ezekiel had one girlfriend but that only lasted a few months but then he found out she was a lesbian and he was kind of mad but he understood that she couldn't lie about who she was anymore. Ezekiel and her still remain friends and he even talks to her girlfriend as well and he sees the difference of her from when they were together and when the two girls are together. Ezekiel was there for his now twelve year old brother when he started Hogwarts.
badges
Guest
sexual orientation
sexual orientation
blood purity
blood purity
badges
---
Permissions in this forum:
You
cannot
reply to topics in this forum